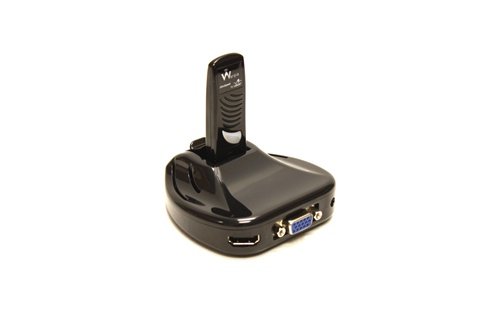 If you're looking for ways to connect your desktop or laptop to your HDTV, you have the option of running a really long video cable from your computer to the back of your set, but depending on the type of TV you have and the type of computer you have, you may be missing the necessary ports to connect the two together.


The set comes in two pieces, a wireless PC adapter that connects to your desktop or laptop via USB 2.0, and the display adapter that receives the audio and video signal from your computer and routes it to your TV. The base station connects to your TV via VGA PC port or HDMI, and supports audio over HDMI or a 3.5mm stereo jack. The solution costs $179.99 and is available now in retail stores and online.
The adapter will work at a range of up to 30 feet and supports a maximum resolution of 1400x1050, which works for videos in HD at 720p, but not 1080p. Even so, since the solution has both VGA and HDMI ports, you can use it just as easily in conference rooms at the office or with your friend's HD set using your laptop as you can to get your favorite video podcasts on your own big screen at home using your home theatre PC.
tags:-TV,adapter,wireless,tv adapter,wireless tv adapter,pc,tv to pc connector,warpia,usb,usb connector